Quotations | Newspaper Articles | Special Features | Links | Search
SPECIAL FEATURE
William Evans James
Photographer for the Quaker City Excursion
© Randolph I. James, 2002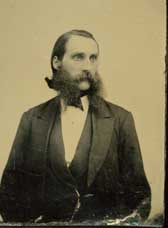 William E. James, 1865
From the Randolph James collection
William Evans James was born in Troyfa, Unvedd, Wales and immigrated to the United States in 1841 as a young boy of six. He arrived in New York City on the ship Brig. Diadem with his father, mother, three older brothers and two older sisters. The family settled down on a small farm in Floyd, New York.
After the usual sequence of country schooling, W. E. enrolled at the Whitestown Seminary in Whitestown, New York where he studied science and religion. He left after two years in 1857 to begin a career in photography working for his oldest brother, David E. James who owned a very successful "Ambrotype House" (James & Co.) in Boston, Massachusetts at the time. He became the third photographer in the family, with another older brother John E. James operating a small portrait studio in Utica, New York.
W. E. married Sarah Robinson on August 30th, 1859 and opened his first studio in "photographers row" on Fulton Street in Brooklyn. He specialized in ambrotypes yet he saw great potential in stereoview photography and frequently completed assignments to photograph locations and events throughout the state of New York in stereoview. He always seemed to have a flair for adventure and the great outdoors and generally found portrait work rather ordinary and uneventful.
Just at the end of the Civil War, James was hired by Anthony & Company of New York to photograph scenes of post-war Charleston in stereoview. He was a passenger on the Oceanus, a steamer under contract to transport zealous northerners to the ceremonial raising of the stars and stripes over Ft. Sumpter in Charleston, South Carolina. Upon hearing the news of Lincoln's assassination he left the Oceanus and headed to Washington D. C. where he photographed Ford's Theater and later Lincoln's funeral procession in New York City.
His greatest adventure was in 1867 as a member of the Quaker City Expedition to Europe and the Holy Land. James took many stereoviews for the Plymouth Church in Brooklyn and on contract for A. O. Van Lennep publishers in New York City. He was a correspondent for the Brooklyn Eagle during the trip that lasted 5 1/2 months. Another noteworthy passenger was Mark Twain who later wrote Innocents Abroad about the journey using some of James' stereoviews as the basis for the book's illustrations.
Upon returning home W. E. discovered his wife was involved in an adulterous affair with a prominent lawyer in the community. This led to a very tumultuous marriage and in 1873 he moved to Missouri where he established residency and obtained a divorce. He came to California by train in 1874 and immediately began working for Thomas Houseworth & Co. taking stereoviews of locations throughout California.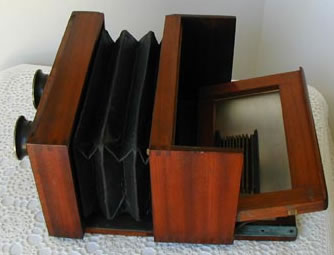 W. E. James' camera.
From the Casey James collection.
He joined the J. M. Hutchings Expedition in 1875 as the photographer taking pictures throughout Yosemite Valley and the Mt. Whitney area. One can only speculate how he and Hutchings became acquainted. At the time, Thomas Houseworth & Co. studio was located at 12 Montgomery Street in San Francisco just a few blocks from Hutchings' office. Perhaps Hutchings dropped in one day and inquired about the availability of an outdoor photographer for his upcoming expedition.
Both were religious men and popular lecturers in the San Francisco area. W. E. may have heard of Hutchings' plans while attending his "Illustrated Sermon" at the Union Hall on March 22, 1874 and offered his services; for a price of course. Or perhaps Hutchings' attended one of James' lectures on his travels and was impressed with his photographic skills, wit, and worldly knowledge. At any rate, it was a good match of photographer and a successful expedition.
Prof James gave "entertaining and instructive Illustrated Lectures" throughout the San Francisco area (1874-86). His lectures were well attended and were advertised as "using a powerful steriopticon, of his own manufacture, showing his views 20 feet square, brilliantly illuminated by the Drummond Light. They are not magic lantern views, or imaginary scenes, but actual photographs, taken by himself, and will comprise views in Palestine, Syria, Europe together with California scenery."
In 1881 W. E. left Houseworth & Co. and began working at I. W. Taber Studios doing mostly portrait photography. He married for a second time to Lilly King of Santa Cruz in February, 1883. Over the next few years his health was in rapid decline. He suffered constant respiratory problems and with what may have been diagnosed as tuberculosis. Seeking a more agreeable climate, he moved to Santa Cruz in 1886 and took over the old Reese photography studio. He died on April 11th, 1887 at the age of fifty-two leaving a loving wife and three-year-old son.
_____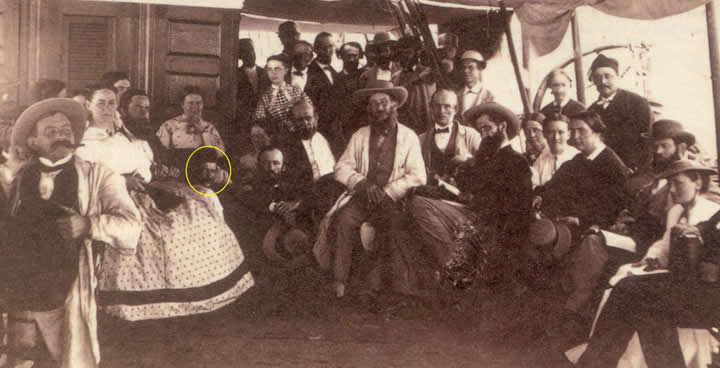 W. E. James' photo of the Quaker City pilgrims, 1867. Mark Twain's face is circled.
_____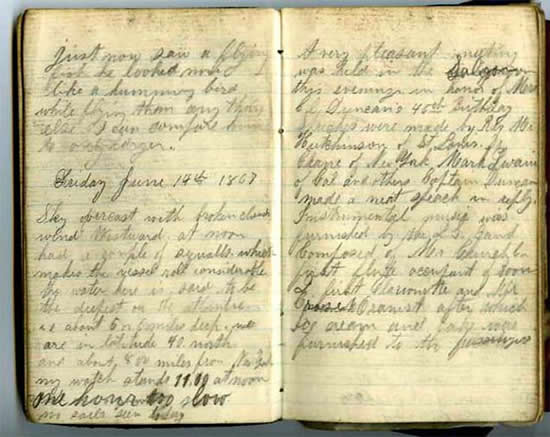 Diary entry of W. E. James dated June 14, 1867 during the Quaker City Excursion:
"Sky overcast with broken clouds. Wind westward. At noon had a couple of squalls which makes the vessel roll considerable the water here is said to be the deepest in the Atlantic is about 6 or 7 miles deep. We are in latitude 40 north and almost 800 miles from New York my watch stands 11:00 at noon one hour too slow. no sails seen today. A very pleasant meeting was held in the saloon this evening in honor of Mr. Duncan's 46th birthday. Speeches were made by Rev. Mr. Hutchinson of St. Louis, Dr. Crane of New York, Mark Twain of California and others. Captain Duncan made a short speech in reply. Instrumental music furnished by the Q/C. band composed of Mr. Church on first flute, occupant of room J, first clarinet, and Mr. [illegible] organist after which ice cream and cake was furnished to the passengers.
Photo and text provided by Randolph James.
_____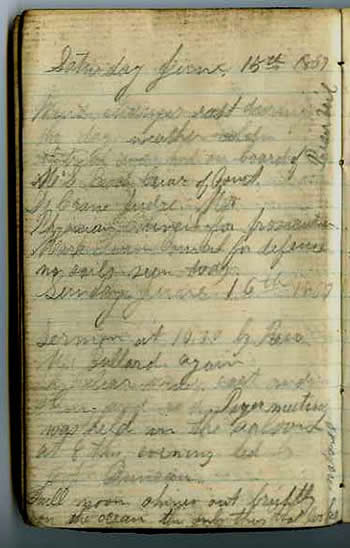 Diary entry of W. E. James dated June 15, 1867 during the Quaker City Excursion:
Wind changed east during the day weather cold. A trial was held on board of Purser Veil
M.S. Beach crier of court
Mr. Crane Judge
Physician Council for Prosecution
Mark Twain Council for defense.
No sails seen today
Photo and text provided by Randolph James.
_____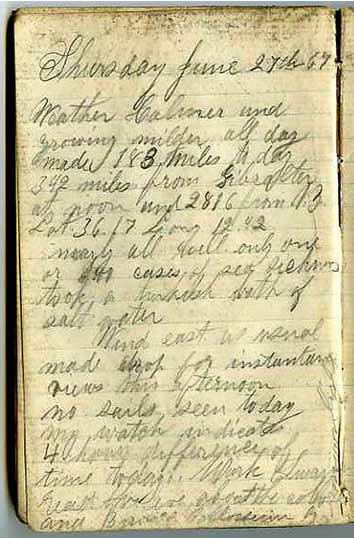 Diary entry of W. E. James dated June 27, 1867 during the Quaker City Excursion:
Weather calmer and growing milder all day. Made 183 miles today. 342 miles from Gibraltar at noon and 2816 from New York. Lat 36.17 long. 12.42 nearly all well only one or two cases of seasickness. Took a Turkish bath of salt water. Wind east as usual. Made drop for instantaneous views this afternoon. No sails today. My watch indicated 4 hours difference of time today. Mark Twain read this evening about the [illegible] and Byron's Coliseum by moonlight.
Photo and text provided by Randolph James.
---
For more information on William E. James and the Quaker City excursion and how his photos were used in Mark Twain's Innocents Abroad, see "William E. James's Stereoscopic Views of the Quaker City Excursion," by Robert H. Hirst and Brandt Rowles, Mark Twain Journal, Spring 1984.

Quotations | Newspaper Articles | Special Features | Links | Search