I was amused by a little daughter of his who was turning over the leaves of a work on geography, suddenly starting up and exclaiming gleefully, -- 'Good, good! I have found it! I've found it at last!' Found what?' her father asked. 'Why look there -- "God fishing off New Foundland"! He looked and read under a picture, 'Cod Fishing off New Foundland.' (Mack, Nevada Historical Society Quarterly, p.93).
In 1835, during a great leather famine, many people were obliged to wear wooden shoes, and Mr. Perry, for the sake of economy, transferred his boot-making patronage from the tan-yard which had before enjoyed his custom, to an undertaker's establishment -- that is to say, he wore coffins ("City Marshall Perry," Territorial Enterprise, March 3, 1863.)
More than two-thirds of the people who come here are afflicted with venereal diseases -- fellows who know that if "Steamboat" fails with them they may as well go to trading feet with the undertaker for a box -- yet all here agree that these baths are none the less potent where other diseases are concerned (

"Letter from Mark Twain," Territorial Enterprise, August 25, 1863

).
There is a system of extortion going on here which is absolutely terrific, and I wonder the Carson Independent has never ventilated the subject. There seems to be only one undertaker in the town, and he owns the only graveyard in which it is at all high-toned or aristocratic to be buried. Consequently, when a man loses his wife or his child, or his mother, this undertaker makes him sweat for it. I appeal to those whose firesides death has made desolate during the few fatal weeks just past, if I am not speaking the truth. Does not this undertaker take advantage of that unfortunate delicacy which prevents a man from disputing an unjust bill for services rendered in burying the dead, to extort ten-fold more than his labors are worth? I have conversed with a good many citizens on this subject, and they all say the same thing: that they know it is wrong that a man should be unmercifully fleeced under such circumstances, but, according to the solemn etiquette above referred to, he cannot help himself. All that sounds very absurd to me. I have a human distaste for death, as applied to myself, but I see nothing very solemn about it as applied to anybody -- it is more to be dreaded than a birth or a marriage, perhaps, but it is really not as solemn a matter as either of these, when you come to take a rational, practical view of the case. Therefore I would prefer to know that an undertaker's bill was a just one before I paid it; and I would rather see it go clear to the Supreme Court of the United States, if I could afford the luxury, than pay it if it were distinguished for its unjustness. A great many people in the world do not think as I do about these things. But I care nothing for that. The knowledge that I am right is sufficient for me. This undertaker charges a hundred and fifty dollars for a pine coffin that cost him twenty or thirty, and fifty dollars for a grave that did not cost him ten -- and this at a time when his ghastly services are required at least seven times a week. I gather these facts from some of the best citizens of Carson, and I can publish their names at any moment if you want them. What Carson needs is a few more undertakers - there is vacant land enough here for a thousand cemeteries.
EDITORS

ENTERPRISE

: The

Independent

takes hold of a wretched public evil and shakes it and bullyrags it in the following determined and spirited manner this morning:

"Our friend, Mark Twain, is such a joker that we cannot tell when he is really in earnest. He says in his last letter to the ENTERPRISE, that our undertaker charges exorbitantly for his services - as much as $150 for a pine coffin, and $50 for a grave and is astonished that the Independent has not, ere this, said something about this extortion. As yet we have had no occasion for a coffin or a bit of ground for grave purposes, and therefore know nothing about the price of such things. If any of our citizens think they have been imposed upon in this particular, it is their duty to ventilate the matter. We have heard no complaints."
... insipid chalk-milk editorials, defending the abuse and apologizing for the perpetrator of it; or when public sentiment is too well established on the subject, pretending, as in the above case, that you are the only man in the community who don't know anything about it. Where did you get your notion of the duties of a journalist from? Any editor in the world will say it is your duty to ferret out these abuses, and your duty to correct them. What are you paid for? what use are you to the community? what are you fit for as conductor of a newspaper, you cannot do these things? Are you paid to know nothing, and keep on writing about it every day? How long do you suppose such a jack-legged newspaper as yours would be supported or tolerated in Carson, if you had a rival no larger than a foolscap sheet, but with something in it, and whose editor would know, or at least have energy enough to find out, whether a neighboring paper abused one of the citizens justly or unjustly? That paragraph which I have copied, seems to mean one thing, while in reality it means another. It's true translation is, for instance: "Our name is Independent -- that is, in different phrase, Opinionless. We have no opinions on any subject -- we reside permanently on the fence. In order to have no opinions, it is necessary that we should know nothing -- therefore, if this undertaker is fleecing the people, we will not know it, and then we shall not offend him. We have heard no complaints, and we shall make no inquiries, lest we do hear some." ...
... wilfully see no wrong in this undertaker's impoverishing charges for burying people -- charges which are made simply because, from the nature of the service rendered, a man dare not demur to their payment, lest the fact be talked of around town and he be disgraced. ...

The editor of the Independent says he don't know anything about this undertaker business. If he would go and report a while for some responsible newspaper, he would learn the knack of finding out things. Now if he wants to know that the undertaker charged three or four prices for a coffin (the late Mr. Nash's) upon one occasion, and then refused to let it go out of his hands, when the funeral was waiting, until it was paid for, although the estate was good for it, being worth $20,000 -- let him go and ask Jack Harris. If he wants any amount of information, let him inquire of Curry, or Pete Hopkins, or Judge Wright. Stuff! let him ask any man he meets in the street -- the matter is as universal a topic of conversation here as is the subject of "feet" in Virginia. But I don't suppose you want to know anything about it. I want to shed one more unsolicited opinion, which is that your Independent is the deadest, flattest, [most] worthless thing I know -- and I imagine my cold, unsmiling undertaker has his hungry eye upon it.

Mr. Curry says if the people will come forward and take hold of the matter, a city cemetery can be prepared and fenced in a week, and at a trivial cost - a cemetery from which a man can set out for Paradise or perdition just as respectably as he can from the undertaker's private grounds at present. Another undertaker can then be invited to come and take charge of the business. Mr. Curry is right -- and no man can move in the matter with greater effect than himself. Let the reform be instituted.
Dallam, of the Carson Independent, makes a full and unqualified apology to me this morning -- an entire column of it. He says he was not in his right mind at the time, and hardly ever is. Now, when a man comes out like that, and owns up with such pleasant candor, I think I ought to accept his apology. Consequently, we will call it square. It is flattering to me to observe that Dallam's editorials display great ability this morning, and that the paper shows an extraordinary degree of improvement in every respect. A becoming modesty should characterize us all -- it is not for me to say who the credit is due to for the improvements mentioned. I only say I am glad to see the Independent looking healthy and vigorous again. -- MARK
They refused me & other reporters some information at a branch of the Coroner's office -- Massey's undertaker establishment, a few weeks ago. I published the wickedest article on them I ever wrote in my life, & you can rest assured we got all the information we wanted after that. It made Mr. Massey come to his milk, mighty quick. Next week the Coroner died, & when they came to fill his vacancy, I had a candidate pledged to take the lucrative job out of Massey's hands, & I went into the Board of Supervisors & button-holed every member & worked like a slave for my man. When I began he hadn't a friend in the Board. He was elected, just like a knife, & Mr. Massey is out in the cold. I learned to pull wires in the Washoe Legislature, & my experience is, that when a bill is to be put through a body like that, the only thing necessary to insure success is to get the reporters to log-roll for it (Letters, Vol, 1, p. 312-313).
I spoke the other day of some singular proceedings of a firm of undertakers here, and now I come to converse about one or two more of the undertaker tribe. I begin to think this sort of people have no bowels -- as the ancients would say -- no heart, as we would express it. They appear to think only of business -- business first, last, all the time. They trade in the woes of men as coolly as other people trade in candles and mackerel. Their hearts are ironclad, and they seem to have no sympathies in common with their fellow men.

A prominent firm of undertakers here own largely in Lone Mountain Cemetery and also in the toll-road leading to it. Now if you or I owned that toll-road we would be satisfied with the revenue from a long funeral procession and would "throw in" the corpse -- we would let him pass free of toll -- we would wink placidly at the gate-keeper and say, "Never mind this gentleman in the hearse -- this fellow's a dead-head." But the firm I am speaking of never do that -- if a corpse starts to Paradise or perdition by their road he has got to pay his toll or else switch off and take some other route. And it is rare to see the pride this firm take in the popularity and respectability of their cemetery, and the interest and even enthusiasm which they display in their business.
Mark Twain, the Sandwich Islands, and Charles Coffin Harris - 1866-67


Charles Coffin Harris, minister of finance in the Sandwich Islands, was described by Clemens as having a "cadaverous undertaker's countenance." Harris, who was never an undertaker but had a middle name that invoked memories of undertakers, eventually became one of Clemens's most vilified targets.
. . . deserved something better than the sneering obloquy heaped upon him by the American humorist [in the Sacramento Daily Union]. It is true that Harris had an unfortunate domineering manner, an air of superiority and condescension that infuriated some people and repelled many others; but he was a man of considerable natural ability, indefatigable industry, and unimpeachable personal integrity (Mark Twain's Notebooks & Journals, Vol. 1, p. 119).
Minister Harris is six feet high, bony and rather slender, middle-aged; has long, ungainly arms; stands so straight that he leans back a little; has small side whiskers; from my distance his eyes seemed blue, and his teeth looked too regular and too white for an honest man; he has a long head the wrong way - that is, up and down; and a bogus Roman nose and a great, long, cadaverous undertaker's countenance, displayed upon which his ghastly attempts at humorous expressions were as shocking as a facetious leer on the face of a corpse. He is a native of New Hampshire, but is unworthy of the name of American. I think, from his manner and language to-day, that he belongs, body and soul, and boots, to the King of the Sandwich Islands and the "Lord Bishop of Honolulu." He has no command of language -- or ideas. His oratory is all show and pretense; he makes considerable noise and a great to do, and impresses his profoundest incoherencies with an oppressive solemnity and ponderous windmill gesticulations with his flails. He raises his hand aloft and looks piercingly at the interpreter and launches out into a sort of prodigious declamation, thunders upward higher and higher toward his climax --words, words, awful four-syllable words, given with a convincing emphasis that almost inspires them with meaning, and just as you take a sustaining breath and "stand by" for the crash, his poor little rocket fizzes faintly in the zenith and goes out ignominiously. The sensation one experiences is the same a miner feels when he puts in a blast which he thinks will send the whole top of a mountain to the moon, and after running a quarter of a mile in ten seconds to get out of the way, is disgusted to hear it make a trifling, dull report, discharge a pipe-full of smoke, and barely jolt half a bushel of dirt. After one of these incomprehensible ravings, Mr. Harris bends down and smiles a horrid smile of self-complacency in the face of the Minister of the Interior -- bends to the other side and continues it in the face of the Minister of Foreign Affairs; beams it serenely upon the admiring lobby, and finally confers the remnants of it upon the unhappy interpreter -- all of which pantomime says as plainly as words could say it: "Eh? -- but wasn't it an awful shot?" Harris says the weakest and most insipid things, and then tries by the expression of his countenance to swindle you into the conviction that they are the most blighting sarcasms. And in seven years I have never lost my cheerfulness and wanted to lay me down in some secluded spot and die, and be at rest, until I heard him try to be funny to-day. If I had had a double-barreled shotgun I would have blown him into a million fragments.
Harris was an American once (he was born in Portsmouth, N. H.), but he is no longer one. He is hoopilimeaai to the King. How do you like that, Mr. H.? How do you like being attacked in your own native tongue?

[NOTE TO THE READER. - That long native word means -- well, it means Uriah Heep boiled down -- it means the soul and spirit of obsequiousness. No genuine American can be other than obedient and respectful toward the Government he lives under and the flag that protects him, but no such an American can ever be hoopilimeaai to anybody.]
We had a call, yesterday, from an old friend, Mark Twain (Sam Clemens, Esq.), the California humorist whom we had not seen since we parted from him on the sunward side of the Sierra Nevadas some three years ago. The aroma of sage brush does not hang around him still. The gentle "Washoe Zephyrs," which lifted a loaded quartz wagon with remarkable ease, have left no rough traces upon his good-humored face. The many feet which he once owned in Washoe, "wild cat" claims, out of which he expected to realize untold wealth, have long since been "sold for assessments," and yet he can still laugh, and make others laugh. He is, indeed, "a fellow of infinite jest" -- as our friends may learn to their entire satisfaction by attending a lecture which he proposes to give in this city on Tuesday next.

Mark's funny stories and quaint sayings are not so well known here as in California, where they have secured for him a reputation not surpassed by any humorist that ever attempted to amuse that people, who are, perhaps, more critical than any other community in the Union.

His wit and his style are peculiarly his own -- original, racy and irresistible.

The first time we heard Mark was at Carson City, the capital of the State of Nevada, on the assembling of the Territorial Legislature in the winter of 1863-4. Hon. James W. Nye (now U.S. Senator) was then Governor of the Territory. After the delivery of the inaugural to the "assembled wisdom" of Silverland, Mark Twain took the speaker's stand and delivered his inaugural as Governor of the Territory chosen by the "Third House," to a very large audience of gentlemen and about all the ladies then in Carson City. It was received with great applause and roars of laughter. Mark gave the Governor some hard hits, in a sly way, but no one enjoyed the fun more than rotund and rubicund Nye.

The lovers of genial humor will find nothing coarse or vulgar in Mark Twain's lecture. He also sometimes (by mistake, he says) indulges in beautiful flights of fancy and eloquence. But of his talent as a lecturer, our citizens will soon have an opportunity of judging, and we bespeak for him, in advance, a fair audience (online at "Mark Twain in His Times").
His Excellency C. C. Harris, of Honolulu -- is to visit Washington as a sort of Envoy Extraordinary to engineer a Reciprocity treaty between the Hawaiian Government and ours. I have got to call on Harris. I owe it to my country to do it. I must conjure Harris by the new dignity that has been conferred upon him of the Grand Cross of the Legion of something or other; and by this other dignity of being by far the most extraordinary Envoy Extraordinary that ever was created by any Government history hath mentioned; and by the love and the respect he once bore this land of his nativity before he was born again as a royalty-worshipping Kanaka, not to lay his unsanctified hand upon anything here that he can't carry. It is his unhappy instinct to gobble, gobble, gobble -- gobble up and carry off. Whether it be to gouge native (chiefs, or seek distinction on high as an Elder in Bishop Staley's Church and pass around the hat, (oh, blind and deluded congregation that would trust him with it ) or grab all the heavy offices, from Minister of Finance down to Attorney-General-by-brevet, and try to run the whole Hawaiian Government by himself, his instinct is the same, and it is always to gobble. So I must warn him.

And he must not swell around Washington and make eloquent speeches that seem to be splendid flights of oratory, but won't stand a fire-assay for sense, and won't wash for coherence, either, because we have got people in Congress who are just as good as he is at that, and so he won't attract any attention.

I must tell him to mind his own business -- to mind his reciprocity treaty, and keep his hands off the things. If he does his work just exactly as he wants to do it, and as only his tireless industry and his marvellous cheek can do it, he can succeed in clinching a treaty that will make American interests very sick in the Sandwich Islands. The Herald's Honolulu correspondence of this morning rather warns Congress to look out for Harris, and I am inclined to think the warning was very well put in, and would find an echo from every American in the Islands. I still continue in my set opinion that Harris won't do.
Mark Twain Tours the Holy Land - 1867
You cannot throw an old cigar "stub" down anywhere, but some seedy rascal will pounce upon it on the instant. I like to smoke a good deal, but it wounds my sensibilities to see one of these stub-hunters watching me out of the corners of his hungry eyes and calculating how long my cigar is going to last. It reminded me, too, painfully of that San Francisco undertaker who used to go to sick-beds with his watch in his hand and time the corpse (McKeithan, p. 43).
We have visited several of the palaces -- immense thick-walled piles, with great stone staircases ... and portraits of heads of the family, in plumed helmets and gallant coats of mail, and patrician ladies, in stunning costumes of centuries ago. ... and so all the grand empty saloons, with their resounding pavements, their grim pictures of dead ancestors, and tattered banners with the dust of bygone centuries upon them, seemed to brood solemnly of death and the grave, and our spirits ebbed away, and our cheerfulness passed from us. ... There was always an undertaker-looking villain of a servant along, too, who handed us a programme, pointed to the picture that began the list of the saloon he was in, and then stood stiff and stark and unsmiling in his petrified livery till we were ready to move on to the next chamber, and then he marched sadly ahead and took up another malignantly respectful position as before. I took up so much time praying that the roof would fall in on these dispiriting flunkeys that I never had any left to bestow upon palace and pictures (McKeithan, pp. 43-4.)
_____

Mark Twain Encounters Charles Coffin Harris Again
Harris is here yet. Harris is Lord High Minister of Finance to the King of the Sandwich Islands when he is at home and it don't rain. But he is "His Royal Hawaiian Majesty's Envoy to the United States" now, and no man is sorrier than I am that his wages are stopped for the present. I met him and conversed with him at the house of a mutual friend a night or two ago, and that is how I happen to know how to spell his title all the way through without breaking my neck over any of the corduroy syllables. I never saw Harris so pleasant and companionable before. He is really very passable company, until he tries to be funny, and then Harris is ghastly. He smiles as if he had his foot in a steel trap and did not want anybody to know it. I can forgive that person anything but his jokes -- but those, never. While Harris continues to joke there will be a malignant animosity between us that no power can mollify.

Harris' business here is to get our Government to remove our man-of-war from the Sandwich Island waters. To give this enterprising devil his due, he has done everything he possibly could do to accomplish his mission, and it was ungraceful in the King to stop his salary. He could not accomplish it and I suppose nobody could. It is a good place out there for a man-of-war; she is not doing any harm; she is not going to do any harm; and until a fair, reasonable reason is given for banishing her, she will remain. In placing her there, no offence whatever was meant to the King or the country, any more than we mean to offend the Sultan when we anchor a frigate in the harbor of Smyrna.

I have missed Harris during the last day or two. I wonder what is become of him. I grieve to see a man fail in an honest endeavor; and now that his King has turned against him, I even wish that Harris could succeed in his mission.
I usually receive notes with pictures in them; pictures of deformed shoemakers; pictures of distorted blacksmiths; pictures of cadaverous undertakers; pictures of reporters taking items at a fire and stealing clothes; and oftenest, pictures of asses, with ears longer than necessary, writing letters to newspapers.
I refer to the reception given by the "Illinois State Association," yesterday evening. Or, rather, it was more a "reunion," with considerable "at home" in it than the funereal high comedy they call a "reception in Washington." ...

I only met one icicle in the whole party. He shook hands without cordiality, and bowed with altogether too much condescension. I said, with a vivacity that considerably oversized the importance of the remark:

"It has been a very fine day, sir."

Then this monument, this undertaker, this galvanized graveyard said:

"Sir, what the weather may be, or what the weather may not be, concerns not me, when my country is in danger." ...

I think this old sepulchre was a member of Congress, but I did not catch his name distinctly. But why do such people go to social gatherings, and practice their execrable speeches on unoffending strangers? Why do they go around saving the country all the time, and snubbing the weather? Why do not they do like Garret Davis, and persecute Congress, which is paid to be persecuted? These harmless lunatics only distress the guests at an evening party, without absolutely scaring them. I would be ashamed to act so poor a part as that. If I had to be a lunatic, I do think I would have self-respect enough to be a dangerous one. I hate that solemn-visaged body-snatcher now, and if he is a Congressman I shall always try to find out all the mean things I can that other people do, and put them in print and attribute them to him. I think that will make him wince.
He killed a good many men. He was a kind-hearted man, and gave all his custom to a poor undertaker who was trying to get along. But by and bye some body poked a double barrelled shot gun through a crack while Williams was sitting at breakfast, and riddled him at such a rate that there was hardly enough of him left to hold an inquest on -- and then the poor unfortunate undertaker's best friend was gone, and he had to take in his sign. Thus he was stricken in the midst of his prosperity and his happiness -- for he was just on the point of getting married when Jack Williams was taken away from him, and of course he had to give it up then (Mark Twain at the Buffalo Express, p. 143).
. . .singling out the avarice of coroners who constantly drummed up business. One of Twain's favorite targets in the Express was Dr. John J. Burke, a coroner in Buffalo. Twain's mock feud with Burke was particularly intense in the spring of 1870 when Twain referred to Burke as "our pompous and officious coroner" and complained about Burke's "personal abuse of the City Editor of the Express" (City and Vicinity, BME, May 3, 1870). In the April 30 Express, Twain took aim at his greed: "The zeal of Dr. Burke outruns his wit." And in March, Twain also criticized the coroner profession in the Express (City and Vicinity, March 23, 1870). (Scribblin' for a Livin', p. 294).
I do wish you had spent a day or two with us in Buffalo, & I beg that you will when you come again. I love to see people from the Islands notwithstanding I conducted myself so badly there & left behind me so unenviable a name. But then you know they honor Harris there, & so while that continues the preferable distinction is to stand dishonored, maybe. I never stole anything in the Islands -- and ah, me, I wish Harris could say as much! (Letters, Vol. 4, p. 278).
I have written for The Galaxy a year. For the last eight months, with hardly an interval, I have had for my fellows and comrades, night and day, doctors and watchers of the sick! During these eight months death has taken two members of my home circle and malignantly threatened two others. All this I have experienced, yet all the time been under contract to furnish "humorous" matter once a month for this magazine. I am speaking the exact truth in the above details. Please to put yourself in my place and contemplate the grisly grotesqueness of the situation. I think that some of the "humor" I have written during this period could have been injected into a funeral sermon without disturbing the solemnity of the occasion.
Somebody has said that in order to know a community, one must observe the style of its funerals and know what manner of men they bury with most ceremony. I cannot say which class we buried with most eclat in our "flush times," the distinguished public benefactor or the distinguished rough -- possibly the two chief grades or grand divisions of society honored their illustrious dead about equally; and hence, no doubt, the philosopher I have quoted from would have needed to see two representative funerals in Virginia before forming his estimate of the people (Roughing It, p. 308).
Miss Jacops was the coffin-peddler's wife - a ratty old buzzard, he was, that used to go roosting around where people was sick, waiting for 'em; and there that old rip would sit all day, in the shade, on a coffin that he judged would fit the can'idate; and if it was a slow customer and kind of uncertain, he'd fetch his rations and a blanket along and sleep in the coffin nights (Roughing It, p. 364).
We did feel such a jubilant pride in our boy. You know how honest is the conviction that the child that is gone was the one only spirit that was perfect. When we shall feel "reconciled," God only can tell. To us it seems a far away time, indeed (Letters, Volume 5, pp. 108-09).
Sharing in the family's grief were Orion and Mollie Clemens who came to visit and comfort the family in the days after Langdon's death.
The "Royal Ministers" are natural curiosities. They are white men of various nationalities, who have wandered thither in times gone by. I will give you a specimen -- but not the most favorable. Harris, for instance. Harris is an American -- a long-legged, vain, light-weight village lawyer from New-Hampshire. If he had brains in proportion to his legs, he would make Solomon seem a failure; if his modesty equaled his ignorance, he would make a violet seem stuck-up; if his learning equaled his vanity, he would make Avon Humboldt seem as unlettered as the backside of a tombstone; if his statue were proportioned to his conscience, he would be a gem for the microscope; if his ideas were as large as his words, it would take a man three months to walk around one of them; if an audience were to contract to listen as long as he would talk, that audience would die of old age; & if he were to talk until he said something, he would still be on his hind legs when the last trump sounded. And he would have cheek enough to wait till the disturbance was over, & go on again.

Such is (or was) His Excellency Mr. Harris, his late Majesty's Minister of This, That, & The Other -- for he was a little of everything; & particularly & always he was the King's most obedient humble servant & loving worshiper, & his chief champion & mouthpiece in the parliamentary branch of ministers. And when a question came up (it did n't make any difference what it was), how he would rise up & saw the air with his bony flails, & storm & cavort & hurl sounding emptiness which he thought was eloquence, & discharge bile which he fancied was satire, & issue dreary rubbish which he took for humor, & accompany it with contortions of his undertaker countenance which he believed to be comic expression!

He began in the islands as a little, obscure lawyer, & rose (?) to be such a many-sided official grandee t hat sarcastic folk dubbed him, "the wheels of the Government." He became a great man in a pigmy land -- he was of the caliber that other countries construct constables & coroners of. I do not wish to seem prejudiced against Harris, & I hope that nothing I have said will convey such an impression I must be an honest historian, & to do this in the present case I have to reveal the fact that this stately figure, which looks so like a Washington monument in the distance, is nothing but a thirty-dollar windmill when you get close to him.

Harris loves to proclaim that he is no longer an American, & is proud of it; that he is a Hawaiian through & through, & is proud of that too; & that he is a willing subject & servant of his lord & master, the King, & is proud & grateful that it is so (Letters, Volume 5, pp. 570-71).
There was a little newspaper editor from Phil's native town, the assistant on a Peddletonian weekly, who made his little annual joke about the "first egg laid on our table," and who was the menial of every tradesman in the village and under bonds to him for frequent "puffs," except the undertaker, about whose employment he was recklessly facetious. In Washington he was an important man, correspondent, and clerk of two house committees, a "worker" in politics, and a confident critic of every woman and every man in Washington. He would be a consul, no doubt, by and by, at some foreign port, of the language of which he was ignorant; though if ignorance of language were a qualification he might have been a consul at home. His easy familiarity with great men was beautiful to see, and when Philip learned what a tremendous underground influence this little ignoramus had, he no longer wondered at the queer appointments and the queerer legislation (The Gilded Age, p. 398-99).
The King was asked whether the pen-portrait of Minister Harris, a member of the Cabinet of a former King, was true to life. The King laughed, and replied that Mr. Harris was a tall, angular, rather awkward, but good-hearted, well-meaning man. He knew of no personal feeling between Mark Twain and Mr. Harris, and judged it was the humorist's love of burlesque which had led him to seize upon the figure of Mr. Harris as a good subject for sport (Letters, Volume 6, p. 331).
Once, when for a day he put aside other matters to record a young undertaker's love-affair, and brought down the result in the evening, fairly bubbling with the joy of it, he met with a surprise. The tale was a ghastly burlesque, its humor of the most disheartening, unsavory sort. No one spoke during the reading, nobody laughed: The air was thick with disapproval. His voice lagged and faltered toward the end. When he finished there was heavy silence. Mrs. Clemens was the only one who could speak:

"Youth, let's walk a little," she said.

The "Undertaker's Love Story" is still among the manuscripts of that period, but it is unlikely that it will ever see the light of print (Paine, pp. 508 - 09).
P.S. When you come, remind me to show you my "Undertaker's Tale -- & tell me what is the trouble with it. (Mark Twain - Howells Letters, Volume 1, p. 206).
There they are, down there every night at eight bells, praying for fair winds -- when they know as well as I do that this is the only ship going east this time of the year, but there's a thousand coming west -- what's a fair wind for us is a head wind to them --the Almighty's blowing a fair wind for a thousand vessels, and this tribe wants him to turn it clear around so as to accommodate one, and she a steamship at that! It ain't good sense, it ain't good reason, it ain't good Christianity, it ain't common human charity (The Innocents Abroad, p. 46).
"...I have had a good deal to do with duels on the Pacific coast, but I see now that they were crude affairs. A hearse, -- sho! we used to leave the elected lying around loose, and let anybody cord them up and cart them off that wanted to. Have you anything further to suggest?"

"Nothing, except that the head undertakers shall ride together, as is usual. The subordinates and mutes will go on foot, as is also usual. I will see you at eight o'clock in the morning, and we will then arrange the order of the procession. I have the honor to bid you a good day." ...

At half past nine in the morning the procession approached the field of Plessis-Piquet in the following order: first came our carriage, -- nobody in it but M. Gambetta and myself; then a carriage containing M. Fourtou and his second; then a carriage containing two poet-orators who did not believe in God, and these had Ms. funeral orations projecting from their breast pockets; then a carriage containing the head surgeons and their cases of instruments; then eight private carriages containing a coroner; then the two hearses; then a carriage containing the head undertakers; then a train of assistants and mutes on foot; and after these came plodding through the fog a long procession of camp followers, police, and citizens generally. It was a noble turnout, and would have made a fine display if we had had thinner weather (A Tramp Abroad, p. 76, 79).
Set such a house against the fresh green of the hillside, and it looks ever so cosy and inviting and picturesque, and is a decidedly graceful addition to the landscape.

One does not find out what a hold the chalet has taken upon him, until he presently comes upon a new house, -- a house which is aping the town fashions of Germany and France, a prim, hideous, straight-up-and-down thing, plastered all over on the outside to look like stone, and altogether so stiff, and formal, and ugly, and forbidding, and so out of tune with the gracious landscape, and so deaf and dumb and dead to the poetry of its surroundings, that it suggests an undertaker at a picnic, a corpse at a wedding, a puritan in Paradise (A Tramp Abroad, p. 324).
In Chapter 47 the narrator describes encountering a large Swiss woman who annoys passengers on a train trip to Turin by propping her feet on their seats and claims she has a physical ailment which causes agony when she puts her feet on the floor.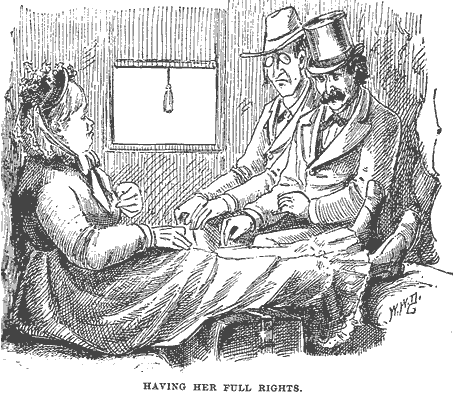 Our compartment was full. A ponderous tow-headed Swiss woman, who put on many fine-lady airs, but was evidently more used to washing linen than wearing it, sat in a corner seat and put her legs across into the opposite one, propping them intermediately with her up-ended valise. In the seat thus pirated, sat two Americans, greatly incommoded by that woman's majestic coffin-clad feet. ...

She simply sobbed and snuffled in a subdued but wholly unappeasable way for two long hours, meantime crowding the man more than ever with her undertaker-furniture and paying no sort of attention to his frequent and humble little efforts to do something for her comfort. Then the train halted at the Italian line and she hopped up and marched out of the car with as firm a leg as any washerwoman of all her tribe! And how sick I was, to see how she had fooled me.
Undertakers and all things associated with the trade continued to furnish Mark Twain with ideas for description and metaphor. (Large shoes that reminded him of coffins had been the topic of at least two earlier items: "City Marshall Perry," Territorial Enterprise, March 3, 1863 written before Jennie's death and a lesser known sketch in the New York Sunday Mercury titled "A Curtain Lecture Concerning Skating" published March 17, 1867.)
The men in that far country were liars, every one. Their mere howdy-do was a lie, because they didn't care how you did, except they were undertakers. To the ordinary inquirer you lied in return; for you made no conscientious diagnosis of your case, but answered at random, and usually missed it considerably. You lied to the undertaker, and said your health was failing -- a wholly commendable lie, since it cost you nothing and pleased the other man (The Stolen White Elephant and Other Detective Stories, p. 220).
I will come around to-morrow and we'll attend the funeral together, for of course you'll naturally feel a peculiar interest in Willie's case, -- as personal a one, in fact, as the undertaker" (The Stolen White Elephant and Other Detective Stories, p. 223).
... for the poor, cremation would be better than burial, because so cheap [1] -- so cheap until the poor got to imitating the rich, which they would do by and by. The adoption of cremation would relieve us of a muck of threadbare burial witticisms; but, on the other hand, it would resurrect a lot of mildewed old cremation jokes that have had a rest for two thousand years.

[1] Four or five dollars is the minimum cost.

I have a colored acquaintance who earns his living by odd jobs and heavy manual labor. He never earns above four hundred dollars in a year, and as he has a wife and several young children, the closest scrimping is necessary to get him through to the end of the twelve months debtless. To such a man a funeral is a colossal financial disaster. While I was writing one of the preceding chapters, this man lost a little child. He walked the town over with a friend, trying to find a coffin that was within his means. He bought the very cheapest one he could find, plain wood, stained. It cost him twenty-six dollars. It would have cost less than four, probably, if it had been built to put something useful into. He and his family will feel that outlay a good many months (Life on the Mississippi, p. 435).
Funerals in our stupid & expensive way -- cremation preferrable. Poor Moore had to pay $26 for cheapest coffin. You can cremate a body for one. Plague has been produced by bodies 200 years buried (Notebooks & Journals, Volume 2, p. 502).
"Does a coffin pay so well? Is there much profit on a coffin?"

"Go-way! How you talk!" Then, with a confidential wink, a dropping of the voice, and an impressive laying of his hand on my arm: "Look here; there's one thing in this world which isn't ever cheap. That's a coffin. There's one thing in this world which a person don't ever try to jew you down on. That' a coffin. There's one thing in this world which a person don't say - 'I'll look around a little, and if I find I can't do better I'll come back and take it.' That's a coffin. There's one thing in this world which a person won't take in pine if he can go walnut; and won't take in walnut if he can go mahogany; and won't take in mahogany if he can go an iron casket with silver door-plate and bronze handles. That's a coffin. And there's one thing in this world which you don't have to worry around after a person to get him to pay for. And that's a coffin. Undertaking? - why it's the dead-surest business in Christendom, and the nobbiest.

"Why, just look at it. A rich man won't have anything but your very best; and you can just pile it on, too - pile it on and sock it to him - he won't ever holler. And you take in a poor man, and if you work him right he'll bust himself on a single lay-out. Or especially a woman (Life on the Mississippi, pp. 437 - 38).


Illustration from first edition of LIFE ON THE MISSISSIPPI
"Well, in ordinary times, a person dies, and we lay him up in ice; one day, two days, maybe three, to wait for friends to come. Takes a lot of it -- melts fast. We charge jewelry rates for that ice, and war prices for attendance. Well, don't you know, when there's an epidemic, they rush 'em to the cemetery the minute the breath's out. No market for ice in an epidemic. Same with Embamming. You take a family that's able to embam, and you've got a soft thing. You can mention sixteen different ways to do it -- though there ain't only one or two ways, when you come down to the bottom facts of it -- and they'll take the highest-priced way, every time. It's human nature -- human nature in grief. It don't reason, you see. 'Time being, it don't care a dam. All it wants is physical immortality for deceased, and they're willing to pay for it. All you've got to do is to just be ca'm and stack it up -- they'll stand the racket. Why, man, you can take a defunct that you couldn't give away; and get your embamming traps around you and go to work; and in a couple of hours he is worth a cool six hundred -- that's what he's worth. There ain't anything equal to it but trading rats for di'monds in time of famine. Well, don't you see, when there's an epidemic, people don't wait to embam. No, indeed they don't; and it hurts the business like hellth, as we say -- hurts it like hell-th, health, see? -- our little joke in the trade. Well, I must be going. Give me a call whenever you need any -- I mean, when you're going by, some time."


In his joyful high spirits, he did the exaggerating himself, if any had been done. I have not enlarged on him (Life on the Mississippi, pp. 440 - 41).
How solemn and beautiful is the thought that the earliest pioneer of civilization, the van-leader of civilization, is never the steamboat, never the railroad, never the newspaper, never the Sabbath-school, never the missionary -- but always whiskey! Such is the case. Look history over; you will see. The missionary comes after the whiskey -- I mean he arrives after the whiskey has arrived; next comes the poor immigrant, with ax and hoe and rifle; next, the trader; next, the miscellaneous rush; next, the gambler, the desperado, the highwayman, and all their kindred in sin of both sexes; and next, the smart chap who has bought up an old grant that covers all the land; this brings the lawyer tribe; the vigilance committee brings the undertaker. All these interests bring the newspaper; the newspaper starts up politics and a railroad; all hands turn to and build a church and a jail -- and behold! civilization is established forever in the land (Life on the Mississippi, p. 586).
Every time a man died, or a woman died, or a child died, she would be on hand with her "Tribute" before he was cold. She called them Tributes. The neighbors said it was the doctor first, then Emmeline, then the undertaker -- the undertaker never got in ahead of Emmeline but once, and then she hung fire on a rhyme for the dead person's name, which was Whistler. She warn't ever the same after that; she never complained, but she kinder pined away and did not live long (Adventures of Huckleberry Finn, p. 140).
Towards the middle of the day the undertaker come with his man, and they set the coffin in the middle of the room on a couple of chairs, and then set all our chairs in rows, and borrowed more from the neighbors till the hall and the parlor and the dining-room was full. ...

Then the people begun to flock in ....When the place was packed full the undertaker he slid around in his black gloves with his softy soothering ways, putting on the last touches, and getting people and things all ship-shape and comfortable, and making no more sound than a cat. He never spoke; he moved people around, he squeezed in late ones, he opened up passageways, and done it with nods, and signs with his hands. Then he took his place over against the wall. He was the softest, glidingest, stealthiest man I ever see; and there warn't no more smile to him than there is to a ham.

They had borrowed a melodeum -- a sick one; and when everything was ready a young woman set down and worked it; and it was pretty skreeky and colicky, and everybody joined in and sung, and Peter was the only one that had a good thing, according to my notion. Then the Reverend Hobson opened up, slow and solemn, and begun to talk; and straight off the most outrageous row busted out in the cellar a body ever heard; it was only one dog, but he made a most powerful racket, and he kept it up right along; the parson he had to stand there, over the coffin, and wait -- you couldn't hear yourself think. It was right down awkward, and nobody didn't seem to know what to do. But pretty soon they see that long-legged undertaker make a sign to the preacher as much as to say, "Don't you worry -- just depend on me." Then he stooped down and begun to glide along the wall just his shoulders showing over the people's heads. So he glided along, and the powwow and racket getting more and more outrageous all the time; and at last, when he had gone around two sides of the room, he disappears down cellar. Then in about two seconds we heard a whack, and the dog he finished up with a most amazing howl or two, and then everything was dead still, and the parson begun his solemn talk where he left off. In a minute or two here comes this undertaker's back and shoulders gliding along the wall again; and so he glided and glided around three sides of the room, and then rose up, and shaded his mouth with his hands, and stretched his neck out towards the preacher, over the people's heads, and says, in a kind of a coarse whisper, "He had a rat!" Then he drooped down and glided along the wall again to his place. You could see it was a great satisfaction to the people, because naturally they wanted to know. A little thing like that don't cost nothing, and it's just the little things that makes a man to be looked up to and liked. There warn't no more popular man in town than what that undertaker was.

Well, the funeral sermon was very good, but pison long and tiresome; and then the king he shoved in and got off some of his usual rubbage, and at last the job was through, and the undertaker begun to sneak up on the coffin with his screw-driver. I was in a sweat then, and watched him pretty keen. But he never meddled at all; just slid the lid along as soft as mush, and screwed it down tight and fast. (Adventures of Huckleberry Finn, pp. 231-33).


Illustrations of the undertaker from first edition of ADVENTURES OF HUCKLEBERRY FINN
Huck describes the undertaker as wearing black gloves and being the "softest, glidingest, stealthiest man I ever see" -- a description that could be well applied to a burglar. The description of the undertaker being "long-legged" also invokes memories of Clemens's old target Charles Coffin Harris. When the undertaker silences the barking dog with a whack and the dog sounds out an "amazing howl" followed by "dead still" the reader is left to imagine what sort of injury the undertaker inflicted on the dog. Huck's admiration for the undertaker rises when the undertaker explains the commotion was caused by a rat and Huck's curiosity on that point is satisfied. After the funeral eulogy is over, the description of the undertaker sneaking up on the coffin with his screw-driver again reinforces the image of a burglar. Huck's admiration for the undertaker is testimony to his innocence and the passage also allows Clemens another opportunity to make the undertaker profession a target for his satire.
An examination of the original manuscript of Adventures of Huckleberry Finn indicates Clemens worked carefully to capture the description of the undertaker -- often revising his passages. He first described the undertaker as having no more smile than a "wax figger" but cancelled those words and wrote "ham."


Portion of leaf 304 of the original manuscript of ADVENTURES OF HUCKLEBERRY FINN.
A few paragraphs later Clemens cancels the first few words of a paragraph related to the undertaker, "I judged he was a ...." This particular thought is never completed and whether Clemens changed Huck's attitude toward the undertaker from one of dismay to admiration will remain a mystery.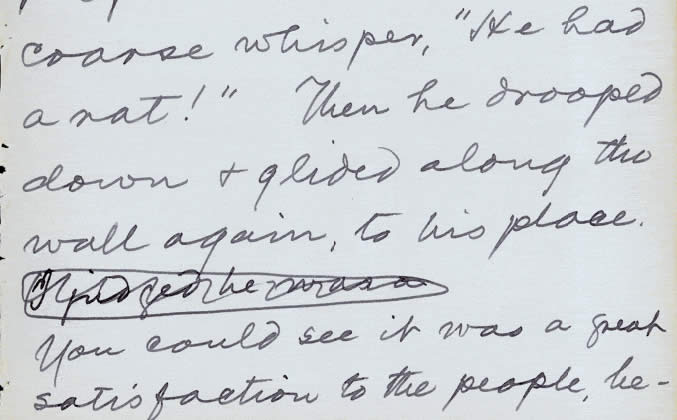 Portion of leaf 307 of original manuscript of ADVENTURES OF HUCKLEBERRY FINN.
Clemens also fine-tuned his wording to reinforce the image of a thief -- having first written "the undertaker begun to slip up on the coffin" he changed the wording to read "sneak up on the coffin..."


Portion of leaf 308 of original manuscript of ADVENTURES OF HUCKLEBERRY FINN.
Overall, the examination of the original manuscript pages related to the undertaker passage in Adventures of Huckleberry Finn indicates that Clemens carefully and deliberately crafted his description of that character.
_____
Well, the priest did very well, considering. He got in all the details, and that is a good thing in a local item: you see he had kept books for the undertaker-department of his church when he was younger, and there, you know, the money's in the details; the more details, the more swag: bearers, mutes, candles, prayers -- everything counts; and if the bereaved don't buy prayers enough you mark up your candles with a forked pencil, and your bill shows up all right (A Connecticut Yankee in King Arthur's Court, p. 109-110).
In one swipe, Clemens had yoked undertakers and organized religion together in his satire -- another "double decapitation" as Mark Twain scholar Edgar Branch might describe it.
In Chapter 23, titled "The First Newspaper" Hank reacts to the first published news reports:
Yes, it was too loud. Once I could have enjoyed it and seen nothing out of the way about it, but now its note was discordant. It was good Arkansas journalism, but this was not Arkansas. ... Indeed, there was too lightsome a tone of flippancy all through the paper. It was plain I had undergone a considerable change without noticing it. I found myself unpleasantly affected by pert little irreverencies which would have seemed but proper and airy graces of speech at an earlier period of my life. There was an abundance of the following breed of items, and they discomforted me: ...

The bdsiness end of the funeral of the late Sir Dalliance the duke's son of Cornwall, killed in an encounter with the Giant of the Knotted Bludgeon last Tuesday on the borders of the Plain of Enchantment was in the hands of the ever affable and efficient Mumble, prince of undertakers, than whom there exists none by whom it were a more satisfying pleasure to have the last sad offices performed. Give him a trial (A Connecticut Yankee in King Arthur's Court, p. 257-59).
Even in a Camelot setting, Clemens could not resist featuring a satisfied undertaker.
_____
"Passengers?"
"Eight."
"Sex?"
"Half male, the others female."
"Ages?"
"From a hundred years up."
"Up to where?"
"Six hundred."
"Ah - going to Chicago; good idea, too. Surgeon's name?"
"We have no surgeon."
"Must provide a surgeon. Also an undertaker -- particularly the undertaker. These people must not be left without the necessities of life at their age (The £1,000,000 Bank-Note and Other New Stories, p. 165).
...there was only about one stateroom, the size of a grave, with a tier of two or three berths in it of the dimensions and comfortableness of coffins ... After his final meal he returned thanks for his many blessings, a little overrating their value, perhaps, and then he laid off his silken splendors or his gilded hardware, and turned in, in his little coffin-bunk (The £1,000,000 Bank-Note and Other New Stories, p. 172, 175).
It is not true that owing to my lack of humor I was once discharged from a humorous publication. It's an event that could very likely happen were I on the staff of a humorous paper -- but then I'd never get into a fix like that. I'd never undertake to be humorous by contract. If I wanted my worst enemy to be racked I'd make him the editor of a comic paper. For me there must be contrast; for humorous effect I must have solemn background; I'd let my contribution into an undertaker's paper or the London Times. Set a diamond upon a pall of black if you'd have it glisten.
(Mark Twain's Interviews, p. 266).
We must take the position that burial is stuck to merely in the interest of the undertaker (who has his family cremated to save expense) (Gribben, p. 268).
The business aspects of the Fourth of July is not perfect as it stands. See what it costs us every year with loss of life, the crippling of thousands with its fireworks, and the burning down of property. It is not only sacred to patriotism and universal freedom, but to the surgeon, the undertaker, the insurance offices - and they are working it for all it is worth.
It is elegant. And it is a fine thought, too -- marrying religion to medicine, instead of medicine to the undertaker in the old way; for religion and medicine properly belong together, they being the basis of all spiritual and physical health.
Of course, the practice of medicine and surgery in a remote country district has its disadvantages, but in my case I am happy in a division of responsibility. I practise in conjunction with a horse-doctor, a sexton, and an undertaker. The combination is air-tight, and once a man is stricken in our district escape is impossible for him.

These four of us -- three in the regular profession and the fourth an undertaker -- are all good men. There is Bill Ferguson, the Redding undertaker. Bill is there in every respect. He is a little lukewarm on general practice, and writes his name with a rubber stamp. Like my old Southern friend, he is one of the finest planters anywhere.

Then there is Jim Ruggles, the horse-doctor. Ruggles is one of the best men I have got. He also is not much on general medicine, but he is a fine horse-doctor. Ferguson doesn't make any money off him.

You see, the combination started this way. When I got up to Redding and had become a doctor, I looked around to see what my chances were for aiding in the great work. The first thing I did was to determine what manner of doctor I was to be. Being a Connecticut farmer, I naturally consulted my farmacopia, and at once decided to become a farmeopath.

Then I got circulating about, and got in touch with Ferguson and Ruggles. Ferguson joined readily in my ideas, but Ruggles kept saying that, while it was all right for an undertaker to get aboard, he couldn't see where it helped horses (Mark Twain's Speeches, p. 335).
What is it that strikes a spark of humor from a man? It is the effort to throw off, to fight back the burden of grief that is laid on each one of us. In youth we don't feel it, but as we grow to manhood we find the burden on our shoulders. Humor? It is nature's effort to harmonize conditions. The further the pendulum swings out over woe the further it is bound to swing back over mirth (Mark Twain's Interviews, p. 522-23).
We are booked to sail in the "Bermudian" April 23rd, but don't tell anybody, I don't want it known. I may have to go sooner if the pain in my breast doesn't mend its ways pretty considerably. I don't want to die here for this is an unkind place for a person in that condition. I should have to lie in the undertaker's cellar until the ship would remove me and it is dark down there and unpleasant.

The Colliers will meet me on the pier and I may stay with them a week or two before going home. It all depends on the breast pain -- I don't want to die there. I am growing more and more particular about the place (Mark Twain's Letters, Paine, ed., p. 842).