CONCERNING GIDEON'S BAND
Mr. Editor: - I see it stated that that staunch old salt, Mr. Gideon Welles, is going to rally to the protection of the President with his 400 marines. Do you know if that party is entirely made up? I would like very much to belong to Gideon's Band. Here's my heart and here's my hand. I want to rally to the rescue a little. I am competent. I have been to sea a good deal, and have seen some service as a boarder on shore; besides, I have some entertaining stories to relate, which I have never got anybody to believe yet, and I wish to tell them to these marines.
We can gain the victory in this enterprise. In the old times there were only 300 noble Democrats in Gideon's Band and they triumphed. Every Democrat took a horn. Every Democrat carried his own jug. Just arm us 400 modern Democrats as we have been armed for three thousand years; give us a jug apiece and sound the tocsin of war! Avast! Ahoy! Way for Gideon's Band!
MARK TWAIN
- Washington Chronicle, Feb. 27, 1868. Reprinted in Hartford Daily Courant, March 2, 1868, p. 2.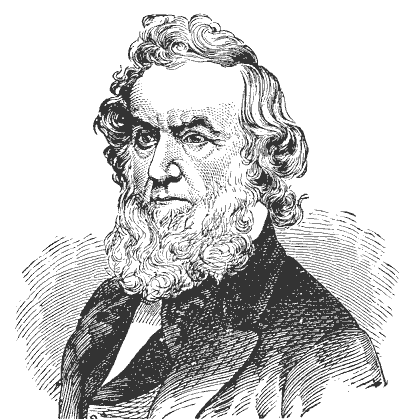 Gideon Welles (1802-1878)
American Secretary of the Navy