Directory of Mark Twain's maxims, quotations, and various opinions:

A B C D E F G H I J K L M N O P Q R S T U V W X Y Z

---
Quotes, comments, and poems about MARK TWAIN by himself and others
Illustration to accompany poem
for Clemens' 50th birthday party appeared in IDLER magazine.
From the
Dave Thomson collection.

TO MARK TWAIN
on his 50th birthday

Ah Clemens when I saw thee last,
We both of us were younger,
How fondly mumbling o'er the past
Is memory's toothless hunger.

So 50 years have fled, they say,
Since first you took to drinking,-
I mean in Nature's milky way
Of course no ill I'm thinking.

But while on life's uneven road
Your track you've been pursuing,
What fountains from your wit have flowed-
What drinks you have been brewing!

I know whence all your magic came,
Your secret I've discovered,
The source that fed your inward flame-
The dreams that round you hovered:

Before you learned to bite or munch
Still kicking in your cradle
The muses mixed a bowl of punch
and Hebe seized the ladle.

Dear Babe, whose 50th year today
Your ripe half-century rounded,
Your books the precious draught betray
The laughing Nine compounded.

So mixed the sweet, the sharp, the strong,
Each finds its faults amended.
The virtues that to each belong
In happier union blended.

And what the flavor can surpass
Of sugar, spirit, lemons?
So while on health fills every glass
Mark Twain for Baby Clemens!
-Oliver Wendell Holmes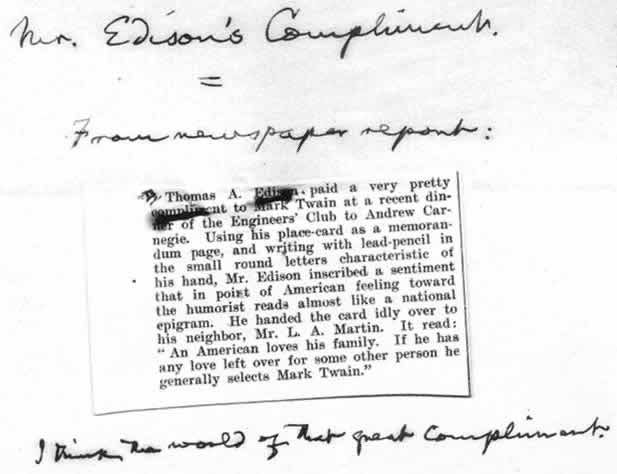 An average American loves his family. If he has any love left over for some other person, he generally selects Mark Twain.
- Thomas Edison
From the Robert Slotta collection,
published in Ephemera News, Spring 2001.
He was a kind of author, and made books, but was afraid to print them in his own name, for they were mainly nonsense and the rest was lies. It was his idea that if he changed his name he would not be found out, and some innocent person would get the blame; for he was of a a malicious disposition and had not much sense.
- deleted passage from "The Autobiography of Belshazzar," first published in Concerning Cats (1959)
I love to think of the great and godlike Clemens.
- Rudyard Kipling letter to Frank Doubleday, 1903

To my mind Mark Twain was beyond question the largest man of his time, both in the direct outcome of his work and more important still, if possible, in his indirect influence as a protesting force in an age of iron philistinism.
- Rudyard Kipling, letter in centennial year of Mark Twain's birth
Once ... he put his hand on my shoulder. It was an Investiture of the Star of India, blue silk, trumpets, and diamond-studded jewel, all complete. If hereafter, in the changes and chances of this mortal life, I fall to cureless ruin, I will tell the superintendent of the workhouse that Mark Twain once put his hand on my shoulder; and he shall give me a room to myself and a double allowance of pauper's tobacco .
- Rudyard Kipling, Elmira Telegram, June 17, 1923
Humor is the hardest to write, easiest to sell, and best rewarded. There are only a few who are able to do it. If you are able, do it by all means. You will find it a Klondike and a Rand rolled into one. Look at Mark Twain.
- Jack London, "Getting into Print," The Editor, March 1903
All modern American literature comes from one book by Mark Twain called Huckleberry Finn. American writing comes from that. There is nothing before. There has been nothing as good since.
- Ernest Hemingway, Green Hills of Africa, 1935
What a wee little part of a person's life are his acts and his words! His real life is led in his head and is known to none but himself. All day long, and every day, the mill of his brain is grinding and his thoughts, not those other things are his history....The mass of him is hidden--it and its volcanic fires that toss and boil, and never rest, night nor day.
- daughter Clara Clemens, August 1947; introduction to Mark Twain at Your Fingertips, Harnsberger
He had periods of being especially absorbed in the accounts of astronomical discoveries, and would pore over the vast figures noted, by the hour. His memory stood him in good stead, too--in these studies. The rapidity of the passage of light and yet the time required for it to reach us from the other planets was one of the topics he never tired of discussing. He was never attracted to subjects which demanded a knowledge of deeper mathematics, for his natural inclination was always stronger toward more poetic and mystic subjects; although I remember his saying that mathematics did not lack poetry either.
- Clara Clemens in letter to H. H. Waggoner, reprinted in Vol. 8, American Literature, p. 363.

Manuscripts fluttering in the wind--imaginations pinned to the clothes line of life.
- Mark Twain--on his manuscripts (quoted by Dorothy Quick, Enchantment)

He has always impressed me as a blacksmith who stands at his anvil with the fire burning and strikes hard and hits the mark every time.
- Maxim Gorky, speech 11 April 1906

Son of the devil, Mark Twain.
- San Francisco clergy, 1866 (Twain quotes this in letter to Mary Fairbanks)
Mark Twain and I are in very much the same position. We have to put things in such a way as to make people
who would otherwise hang us, believe that we are joking.
- George Bernard Shaw

Emerson, Longfellow, Lowell, Holmes--I knew them all and the rest of our sages, poets, seers, critics, humorists; they were like one another and like other literary men; but Clemens was sole, incomparable, the Lincoln of our literature.
- William Dean Howells, My Mark Twain, 1910

You have pervaded your century almost more than any other man letters, if not quite more; and it is astonishing how you keep spreading.
- Letter from William Dean Howells to Clemens, 2 August 1898

He was the first American author of world rank to write a genuinely colloquial and native American.
- H. L. Mencken, The American Language, 1919

We are not hostile to the United States. How could I be hostile to a country that produced Mark Twain?
- S.W.R.D. Bandaranaike, prime minister of Ceylon, 1956

Twain was so good with crowds that he became, in competition with singers and dancers and actors and acrobats, one of the most popular performers of his time. It is so unusual, and so psychologically unlikely for a great writer to be a great performer, too, that I can think of only two similar cases--Homer's, perhaps, and Moliere's.
- Kurt Vonnegut, Jr., The Unabridged Mark Twain, 1976

For me, of course, nothing can ever be like it again in this world. One is not likely to associate twice with a being from another star.
- Albert Bigelow Paine, Mark Twain: A Biography, 1912

People born to be hanged are safe in water.
- Jane Clemens, Mark Twain's mother, quoted in Mark Twain's Autobiography

He is a well spring of truth, but you can't bring up the whole well with one bucket. I know his average, therefore he never deceives me. I discount him thirty per cent for embroidery, and what is left is perfect and priceless truth, without a flaw in it anywhere.
- Jane Clemens, Mark Twain's mother, quoted in Mark Twain's Autobiography

[In applying for a German passport on May 7, 1878, Mark Twain described himself to the authorities]--My description is as follows: Born 1835; 5 ft. 8 1/2 inches tall; weight about 145 pounds....dark brown hair and red moustache, full face with very high ears and light gray beautiful beaming eyes and a damned good moral character.
- letter to Bayard Taylor written 7 May 1878 (in German); reprinted and translated in "New Letters of Mark Twain," American Literature, March 1936, p. 48.

Hicks was born honest, I without that incumbrance--so some people said. Hicks saw what he saw and reported accordingly, I saw more than was visible and added to it such details as could help. Hicks had no imagination, I had a double supply. He was born calm, I was born excited. No vision could start a rapture in him and he was constipated as to language, anyway, but if I saw a vision I emptied the dictionary onto it and lost the remnant of my mind into the bargain.
- Mark Twain in Eruption; Mark Twain's Autobiography

I have always been able to gain my living without doing any work; for the writing of books and magazine matter was always play, not work. I enjoyed it; it was merely billiards to me.
- Mark Twain in Eruption
Yes, you are right -- I am a moralist in disguise; it gets me into heaps of trouble when I go thrashing around in political questions.
- Letter to Helen Picard, 22 February 1902

A contrary cuss and difficult to keep out of deadly indiscretions.
- Clemens attributed this quote to Jean Clemens in a letter to Clara, 20 May 1905 (Karanovich collection)

The story of my life will make certain people sit up and take notice, but I will use my influence not to have it published until the persons mentioned in it and their children and grandchildren are dead. I tell you it will be something awful. It will be what you might call good reading.
- Interview aboard SS Minneapolis, New York, 8 June 1907
And when he talks he talks slowly and extracts each of his vowels with a corkscrew twist that would make even the announcement of a funeral sound like a joke.
- William A. Croffut, in "Mark Twain Smoked Out," Harrisburg (PA) Daily Patriot, 4 June 1889, p. 3.

To Mark Twain
Still where the countless ripples laugh above
The Blue of halcyon seas long may you keep
Your course unbroken, buoyed upon a love
Ten thousand fathoms deep!
- Owen Seaman, editor of Punch 25 June 1907

La Salle was the first man to make the voyage of the great stream of the Mississippi, to which hordes of smaller streams are tributary; but Mark Twain was the first man to chart, light, and indicate it for the whole world.
- Hamilton Mabie in Outlook (from speech, 11 January 1908)

Later, 1871, came Mark Twain, originally of Missouri, but then of Hartford, and now ultimately of the solar system, not to say the universe.
- William Dean Howells, (from speech, 11 January 1908)

....Robert Louis Stevenson and I, sitting in Union Square and Washington Square a great many years ago, tried to find a name for, the submerged fame, that fame that permeates the great crowd of people you never see and never mingle with; people with whom you have no speech, but who read your books and become admirers of your work and have an affection for you. You may never find it out in the world, but there it is, and it is the faithfulness of the friendship, of the homage of those men, never criticizing, that began when they were children. They have nothing but compliments they never see the criticisms, they never hear any disparagement of you, and you will remain in the home of their hearts' affection forever and ever. And Louis Stevenson and I decided that of all fame, that was the best, the very best.
- from a speech, 11 January 1908

After all was said about Mark Twain there is no explanation of his career. That a man coming from humble and unliterary surroundings and with the training of a Mississippi River pilot could have risen even by the most gradual stages to his preeminence as a world figure has no parallel in literary history. At his death, not even excepting Roosevelt, he was the best-known living American, bearing the highest collegiate honors America and England could bestow and having made a deep and lasting impression in every civilized country. He did this in spite of his violent prejudices, by the very force of his sincerity and by a comprehension of human nature which was much deeper than the unique and delightful form of humor in which it was clothed. He was moreover, greatly beloved in all English-speaking lands. The world has seemed to me very strange without Mark Twain in it.
- Robert Underwood Johnson, Remembered Yesterdays

...and the elements So mixed up in him, that Nature might stand up And say to all the world, This was a Man!
- Julius Caesar (quote used by Mary Lawton in the introductory of book: A Lifetime with Mark Twain: The Memories of Katy Leary)

Of course his swearing never seemed really bad to me. It was sort of funny, and a part of him, somehow. Sort of amusing it was-and gay--not like real swearing, 'cause he swore like an angel.
- Katy Leary, A Lifetime with Mark Twain: The Memories of Katy Leary

I -- well I was an exception, you understand -- my kind don't turn up every day. We are very rare. We are a sort of human century plant, and we don't blossom in everybody's front yard.
- Letter from Sam Clemens to Olivia, 8 September 1869

Mr. (Henry H. ) Rogers said the other day.....that other people's successes in this world were made over broken hearts or at the cost of other people's feeling or food, but that my fame had cost no one a pang or a penny.
- Letter to Olivia Clemens 4 January 1894

I think "Mark Twain" is a very appropriate nom de plume for Mr. Clemens because it has a funny and quaint sound that goes well with his amusing writings, and its nautical significance suggests the deep and beautiful things he has written.
- Helen Keller, letter 29 March 1895 (quoted in The Love Letters of Mark Twain)

I feel the twinkle of his eye in his handshake. He makes you feel his heart is a tender Iliad of human sympathy.
- The Story of My Life, Helen Keller

Ah, well, I am a great and sublime fool. But then I am God's fool, and all his works must be contemplated with respect.
-Letter to William Dean Howells, 1877

Hours and hours and hours he sits writing with a wonderful light in his eyes. The flush of a girl in his cheeks, and oh the luster of his hair. It is too terribly perishably beautiful. It is no wonder that his tread is that of a spirit's, for the great power of his brain seems to draw him up, and to give him his delicacy of step.
- Isabel Lyon, diary 21 May 1905

He was notoriously reticent about depicting mature sexual and emotional relationships, but he did write a kind of pornography of the dollar.
- Justin Kaplan, Mr. Clemens and Mark Twain, 1966

The difference between papa and mama is, that mama loves morals and papa loves cats.
- Susy Clemens (quoted in Mark Twain, a Biography)

Papa, the way things are going, pretty soon there won't be anybody left for you to get acquainted with but God.
- Jean Clemens (quoted in Mark Twain's Notebook)

This autobiography of mine is a mirror, and I am looking at myself in it all the time. Incidentally I notice the people that pass along at my back- I get glimpses of them in the mirror- and whenever they say or do anything that can help advertise me and flatter me and raise me in my own estimation, I set these things down in my autobiography. I rejoice when a king or a duke comes my way and makes himself useful to this autobiography, but they are rare customers, with wide intervals between. I can use them with good effect as lighthouses and monuments along my way, but for real business I depend upon the common herd.
- Mark Twain's Autobiography

...by 1897, Clemens had seen more of his native land and more of the world beyond it than any major American writer before air travel.
- Carl Dolmetsch, Our Famous Guest: Mark Twain in Vienna

To thee whose mark hemispheres attest,
Wherever thou has cast thy pilot log,
That German speech with humour can invest,
And make a classic of a jumping frog,
A grateful muse inscribes her modest tome.
Warmed at thy genial hearth to life anew,
While flourished here the innocent at home,
Where all was cultured, yet was nothing "blue."
Though winter reigned, yet found I sunshine there,
No need to venture on a tramp abroad,
Spurred on afresh another flight to dare,
A frozen spirit from its torpor thawed.
And though again the ocean roll between,
Be sure no malice of ungracious fate
Can dim the memory of what has been,
Nor "love" for thee and thine "exterminate."
- Emily De Laszowska, "Dedication," The Extermination of Love: A Fragmentary Study in Erotics, (as reprinted in Our Famous Guest: Mark Twain in Vienna, Carl Dolmetsch)

By the close of his career the New York Times estimated that he was quoted in common conversation more often than any other American, including Ben Franklin and Abe Lincoln.
- Mark Twain Laughing, P. M. Zall
Bret Harte has himself told the story of how in his "Mint " days he first met his famous brother humorist, "Mark Twain." His friend and journal colleague, Mr. George Barnes, called upon him to introduce a young man whose appearance was decidedly impressive." His head," he wrote," was striking. He had the curly hair, the aquiline nose and even the aquiline eye--an eye so eagle-like that a second lid would not have surprised me--of an unusual and dominant nature. His eyebrows were very thick and bushy. His dress was careless, and his general manner one of supreme indifference to surroundings and circumstances. Barnes introduced him as Mr. Sam. Clemens, and remarked that he had shown a very unusual talent in a number of newspapers contributed over the signature of 'M Twain.' We talked on different topics, and about a month afterwards Clemens dropped in upon me again. He had been away in the mining districts on some newspaper assignment in the meantime. In course of conversation he remarked that the unearthly laziness that prevailed in the town he had been visiting was beyond anything in his previous experience. He said the men did nothing all day long but sit around the bar-room stove, spit, and 'swop lies.' He spoke in a slow, rather satirical drawl, which was itself irresistible. He went on to tell one of those extravagant stories, and half unconsciously dropped into the lazy tone and manner of the original narrator. I asked him to tell it again to a friend who came in, and then asked him to write it out for The Californian. He did so, and when published it was an emphatic success. It was the first work of his that had attracted general attention, and it crosses the Sierras for an Eastern reading. The story was 'The Jumping Frog of Calaveras.' It is now known and laughed over, I suppose, wherever the English language is spoken; but it will never be as funny to any one in print as it was to me, told for the first time by the unknown Twain himself on that morning the San Francisco Mint."
- The Life of Bret Harte, by T. Edgar Pemberton.
I lay awake all last night aggravating myself with this prospect of seeing my hated nom de plume (for I do loathe the very sight of it) in print again every month.
- Samuel Clemens, letter to Orion Clemens, 11 March 1871

Quotations | Newspaper Articles | Special Features | Links | Search