Directory of Mark Twain's maxims, quotations, and various opinions:

A B C D E F G H I J K L M N O P Q R S T U V W X Y Z

---
SPEECH
The best and most telling speech is not the actual impromptu one, but the counterfeit of it ... that speech is most worth listening to which has been carefully prepared in private and tried on a plaster cast, or an empty chair, or any other appreciative object that will keep quiet, until the speaker has got his matter and his delivery limbered up so that they will seem impromptu to an audience.
- Speech in New York City, 31 March 1885
It is my custom to keep on talking until I get the audience cowed.
- Mark Twain, a Biography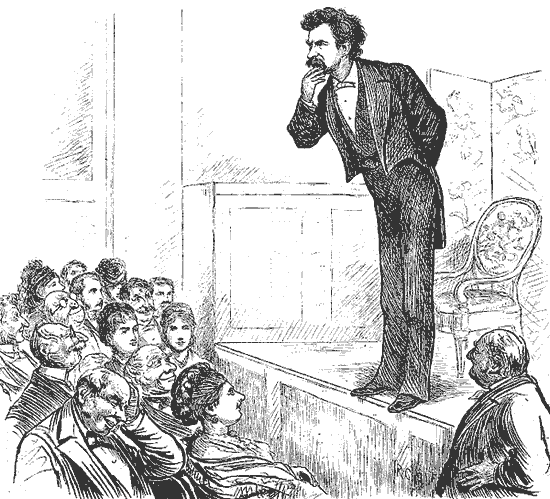 Illustration by Henry Blackburn in the New York GRAPHIC, Nov. 5, 1873
from the Dave Thomson collection.

Twain by Joseph Keppler appeared on the back cover of PUCK, Dec. 23, 1885.
From the Dave Thomson collection
When you deliver a lecture you get good pay, but when you deliver a speech you don't get a cent. You don't get anything at all from your own party, and you don't get anything out of the oppostion but a noble, good supply of infamous episodes in your own private life which you hadn't heard of before -- a scorching lot of facts about your private rascalities and scoundrelisms which is brand-new to you -- all good enough stuff for by and by, when you get ready to write your autobiography, but of no immediate use to you, further than to show you what you could have become if you had attended strictly to business.
- Political speech, Republican Rally, Hartford Opera House, 26 October 1880


There is nothing in the world like a persuasive speech to fuddle the mental apparatus and upset the convictions and debauch the emotions of an audience not practiced in the tricks and delusions of oratory.
- The Man that Corrupted Hadleyburg

Illustration from Washington TIMES, June 28, 1907
Eloquence is the essential thing in a speech, not information.
- "Three Thousand Years among the Microbes"
No gross speech is ever harmless. "A man cannot handle pitch and escape defilement," said the proverb.
- Letter to Olivia Langdon Clemens, 1 March 1869
I can give my mother three words the start on a ten word sentence and come in at the home stretch making the head. I have never stammered, have never had any obstruction in my speech except slow delivery, and that obstruction perceptable to other people only; it does not seem slow to me, and when nigger minstrels imitate it on the platform to what friends of mine call absolute perfection, it always falls upon my ear as a most limitless and extravagant exaggeration.
- Letter to Charles T. Palmer, 3 Oct.1882

The pause is an exceedingly important feature in any kind of story, and a frequently recurring feature, too. It is a dainty thing, and delicate, and also uncertain and treacherous; for it must be exactly the right length - no more and no less - or it fails of its purpose and makes trouble.
- "How to Tell a Story," 1895

The innocent who could laugh with joy didn't dare to because they were sitting beside a guilty friend who didn't dare to.
- quoted in Isabel Lyon's Journal, 22 January 1906 (regarding the 25th Anniversary of the founding of the Tuskeegee Institute speech)


Quotations | Newspaper Articles | Special Features | Links | Search