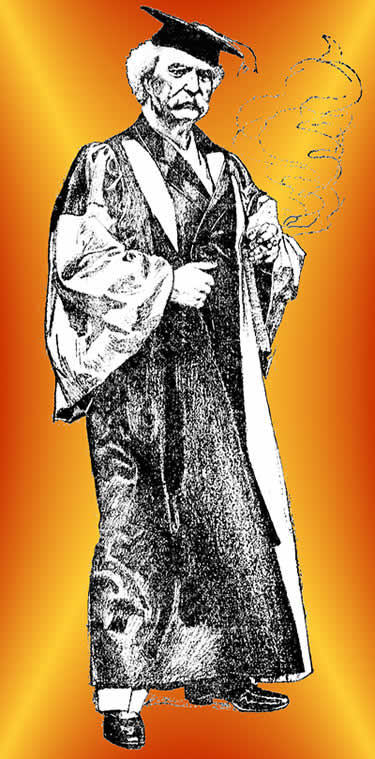 Artist's depiction of Mark Twain in his Oxford robes.
You can get bishops that will do, if you look around. I, mys_____ I mean they are around. They only need to be good men, broad men, men of dignity, of character, of executive ability, of generalship; but the college president must be all that, and more. He must be father and mother, mentor and protector to the exiled student; and brother and sister and loyal friend -- touch him at every angle of his being, intellect, heart, and all. He must be of that rare breed of men whom the young and the manly love at first sight; whom they honor and revere by automatic impulse; whose nodded approval is more than other men's articulate applause; whose censure plants a wholesome seed, not simply leaves a scar where a weed had stood; whose eye is always the eye of a friend, even when it is also the eye of a judge; whose atmosphere is electric with helpful sympathies; whose mere presence inspires to all good and honorable ambitions. Such a man, and such a man only, is the right one for the greatest of all callings; his word, and walk, and charm, and character, and example are his tools and working plans, and with them he builds men -- fine and true and manly men, the noblest edifices and the fairest that come from the hands of any architect. That is Dr. Smith; that is our president of Trinity -- lo, where he sits! He is a builder of men; and a master builder. Promote him? There is no promotion for such a man; his is the highest office in the gift of the children of this earth; he stands at the summit of human usefulness -- and above that is nothing but air and the vacant skies! Away with your minor gauds and titles, he is a Builder of Men! -- leave him where he is.
- Speech, February 25, 1889 for Trinity College Alumni, New York City, "The College President." Text of speech published in Hartford Daily Courant, February 26, 1889, p. 3. The speech was in honor of Twain's friend Dr. George Williamson Smith, a clergyman and President of Trinity College in Hartford, Connecticut.