Directory of Mark Twain's maxims, quotations, and various opinions:

A B C D E F G H I J K L M N O P Q R S T U V W X Y Z

---
LIBRARY
But the truth is, that when a Library expels a book of mine and leaves an unexpurgated Bible lying around where unprotected youth and age can get hold of it, the deep unconscious irony of it delights me and doesn't anger me.
- Letter to Mrs. Franklin G. Whitmore, 7 February 1907

Statue of Mark Twain at the Mark Twain Library at Redding, CT
courtesy of James Armstrong.
A public library is the most enduring of memorials, the trustiest monument for the preservation of an event or a name or an affection; for it, and it only, is respected by wars and revolutions, and survives them.
- Letter to the Millicent [Rogers] Library, 22 February 1894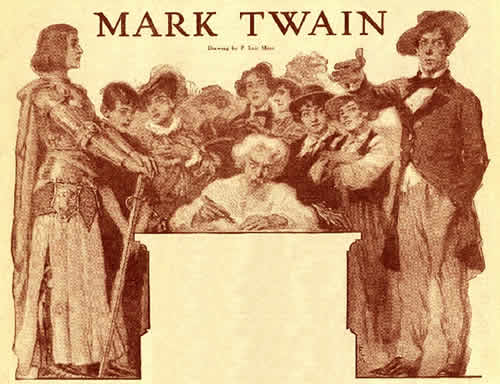 Illustration of Twain and his characters by F. Luis Mora from Sunday newspaper supplements of
Mark Twain's Autobiography on Oct. 17, 1907.
From the Dave Thomson collection.


Quotations | Newspaper Articles | Special Features | Links | Search