Directory of Mark Twain's maxims, quotations, and various opinions:

A B C D E F G H I J K L M N O P Q R S T U V W X Y Z

---
HUMORISTS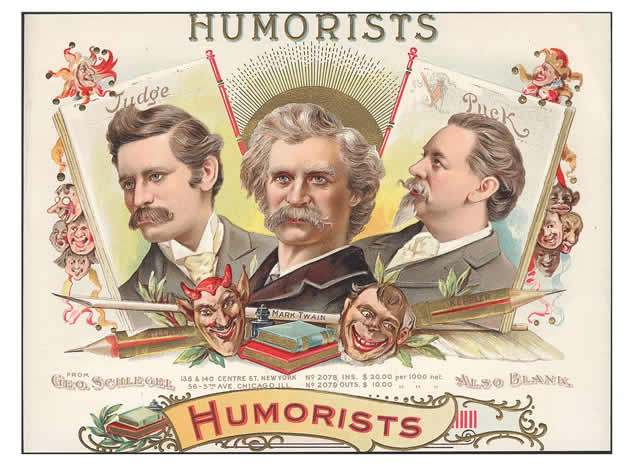 Tobacco art featuring humorists
Bernhard Gillam, Joseph Keppler, and Mark Twain.
From the Dave Thomson collection.
Humorists of the "mere" sort cannot survive. Humor is only a fragrance, a decoration. Often is merely an odd trick of speech and of spelling. ...Humor must not professedly teach, it must not professedly preach; but it must do both if it would live forever. By forever, I mean thirty years. ... I have always preached. That is the reason that I have lasted thirty years.
- Autobiographical dictation, 31 July 1906. Published in Autobiography of Mark Twain, Volume 2 (University of California Press, 2013)
It has always been the way of the world to resent gravity in a humorist. It is a little strange that this should be so, for an absolutely essential part of any real humorist's native equipment is a deep seriousness and a rather unusually profound sympathy with the sorrows and suffereings of mankind.
- Autobiographical dictation, 22 May 1908. Published in Autobiography of Mark Twain, Volume 3 (University of California Press, 2015)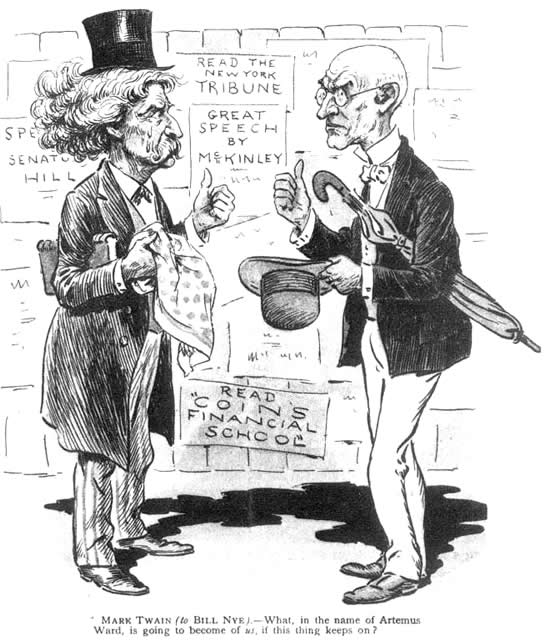 Cartoon from PUCK, July 10, 1895
To be made a master of arts by your venerable college is an event of large size to me, and a distinction which gratifies me quite as much as if I deserved it. To be noticed in this way by the university would be pleasing to me at any time, but it is peculiarly so at this juncture. The late Matthew Arnold rather sharply rebuked the guild of American "funny men" in his latest literary delivery, and therefore your honorable recognition of us is peculiarly forcible and timely.
A friendly word was needed in our defense, and you have said it, and it is sufficient. It could not become us -- we being in some ways, and at intervals, modest, like other folk -- to remind the world that ours is a useful trade, a worthy calling; that with all its lightness and frivolity it has one serious purpose, one aim, one specialty, and it is constant to it -- the deriding of shams, the exposure of pretentious falsities, the laughing of stupid superstitions out of existence; and that whoso is by instinct engaged in this sort of warfare is the natural enemy of royalties, nobilities, privileges and all kindred swindles, and the natural friend of human rights and human liberties. We might with propriety say these things, and so hint that in some degree our calling is entitled to respect, but since you have rehabilitated us it is not necessary. I offer my best thanks to the corporation of Yale university for the high honor which they have conferred upon me, and am very sorry that my circumstances deny me the privilege of saying my thanks by word of mouth at the dinner tomorrow night. With great respect, I am truly yours, S. L. CLEMENS.
- letter to President Timothy Dwight, Yale University, June 26, 1888. Reprinted in Hartford Daily Courant, June 29, 1888, p. 5.

Quotations | Newspaper Articles | Special Features | Links | Search