Wherever they can stick a name so that it shall glorify anything pertaining to England, there they stick it. You never hear of an Englishman speak of the Hawaiian Islands--no, he calls them the Sandwich Islands; Cook discovered them second-hand, by following a Spanish chart three hundred years old, which is still in the British Museum, and named them for some one-horse Earl of Sandwich, that nobody had heard of before, and hasn't since--a man that probably never achieved any work that was really gorgeous during his earthly mission, excepting his invention for confining a slice of ham between two slices of bread in such a manner as to enable even the least gifted of our race to eat bread and meat at the same time, without being bewildered by too elaborate a conjunction of ideas. I suppose, if the real truth were known, some foreigner invented the Sandwich, but England gave it a name, in her usual cheerful fashion. They never even speak of the whale that swallowed Jonah merely as a whale, but as the Prince of Wales. They think it suggests that he was an English whale. If he was that, that is sufficient. That covers up any probable flaws in his character. It is nothing to them that he went about gobbling up the prophets wherever he found them; it is nothing that he interfered with their business--nothing that he put them to infinite delay, discomfort and annoyance; it is nothing that he disgorged prophets in such a condition, as to personal appearance, that they might well feel a delicacy about preaching in a strange city. No--being an English whale was sufficient to make this infamous conduct excusable; and being English, they are willing to let the "great fish" pass for a whale, notwithstanding a whale's throat is not large enough to let a man do down.
- Letter to San Francisco Alta California, February 11, 1868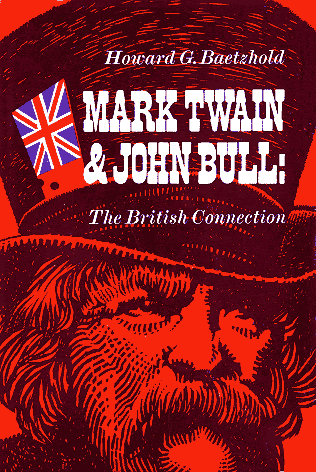 Howard Baetzhold's book
MARK TWAIN AND JOHN BULL:
THE BRITISH CONNECTION
with cover design by Guy Fleming
from Indiana University Press.
Jacket scan is from the
Dave Thomson collection.
This book is currently out of print but
frequently available from
amazon's used book sites.