Directory of Mark Twain's maxims, quotations, and various opinions:

A B C D E F G H I J K L M N O P Q R S T U V W X Y Z

---
DENTISTS
All dentists talk while they work. They have inherited this from their professional ancestors, the barbers.
- "Down the Rhone," Europe and Elsewhere

Regarding his personal dentist Dr. John M. Riggs:
He was gray and venerable, and humane of aspect; but he had the calm, possessed, surgical look of a man who could endure pain in another person.
- "Happy Memories of the Dental Chair," published in Who Is Mark Twain?


Photo from Library of Congress Prints and Photographs Division
Then he put his tool into my mouth, rooted it up under a gum and began to carve. He seemed to fetch away chips of bone the size of my hand. In truth, what he removed could hardly have been seen without a microscope, I suppose -- but my imagination is a microscope. If I had been honest enough to speak my mind, I would have said "Ow!" to every dig, and shouted it; but I was ashamed to do that, and so only said "um," in a low voice, and kept back the exclamation point. ... At the end of an hour, something was said about chloroform. I knew I did not need it myself, but I believed my imagination did. ... I could not touch anything to my teeth for several days, they were so supernaturally sensitive. But after that they became as touch as iron, and a thorough comfort. If by some blessed accident my conscience could catch the Riggs disease, I know what I would do with it.
- "Happy Memories of the Dental Chair," published in Who Is Mark Twain?
When teeth became touched with decay or were otherwise ailing, the doctor knew of but one thing to do -- he fetched his tongs and dragged them out. If the jaw remained, it was not his fault.
- Mark Twain's Autobiography

Most cursed of all are the dentists who made too many parenthetical remarks -- dentists who secure your instant and breathless interest in a tooth by taking a grip on it, and then stand there and drawl through a tedious anecdote before they give the dreaded jerk. Parentheses in literature and dentistry are in bad taste.
- A Tramp Abroad, Appendix D, "The Awful German Language"


See also Pain vs Pleasure
_____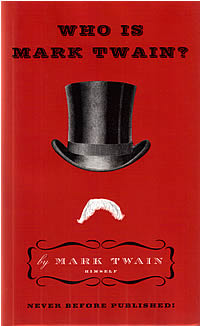 WHO IS MARK TWAIN? available from amazon.com
contains the full text of "Happy Memories of the Dental Chair"

Quotations | Newspaper Articles | Special Features | Links | Search