Directory of Mark Twain's maxims, quotations, and various opinions:

A B C D E F G H I J K L M N O P Q R S T U V W X Y Z

---

BRIDGES
I have not been by that bridge for a month without yearning to cross it. I have abused the tardy workmen in my heart for keeping this pleasure from me. I have fairly ached to cross it, and have thought I would give anything in reason or out of reason for the privilege, but the entrances were pitilessly closed, and I had to move on and sigh and suffer in silence. But to-day all obstructions were gone and no soul was there to forbid me. I was free to cross as often as I wanted to. But I didn't want to. As soon as the obstructions were gone the desire went also. Verily, there is a large amount of human nature in people.
Crowds stand around all day long and criticise that bridge, and find fault with it, and tell with unlimited frankness how it ought to have been planned, and how they would have built it had the city granted them the $14,000 it cost. It is really refreshing to hang around these and listen to them. A foreigner would come to the conclusion that all America was composed of inspired professional bridge builders.
- "The Broadway Bridge," Alta California, June 23, 1867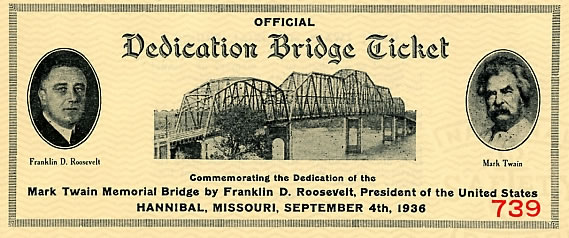 Ticket for dedication of Mark Twain Bridge, Hannibal, MO, 1936
From the Dave Thomson collection.

Quotations | Newspaper Articles | Special Features | Links | Search