---
The New York Times, July 2, 1917
TO SELL MARK TWAIN HOME
Humorist's Daughter Finds Connecticut Place Too Isolated
Stormfield, Mark Twain's old home near Redding, Conn., in which the humorist died, has been advertised for sale. He built it with the idea of getting a country home which should be near enough to New York, and yet not too near, in Summer and Winter; but his daughter, Mrs. Clara Clemens Gabrilowitsch, to whom it passed after his death, found it too far away for the needs of an artist whose affairs required frequent presence in the metropolis. She and her husband, Ossip Gabrilowitsch, lived in it intermittently until 1914, but since then they have spent their Summers at Seal Harbor, Me., and most of the Winter seasons in New York.
The house, built on 248 acres acquired by Mr. Clemens, stands on a hilltop in the section where General Israel Putnam raised his troops in the revolution. It embodies a good many of the humorist's own ideas of architecture.
The house was built in 1907, but the humorist did not find the happiness he expected there. His daughter Jean, who had lived with him for many years, was drowned in her bath at Stormfield on Christmas Eve, 1909, as a result of an epileptic stroke, and Mark Twain was still suffering from grief over her death when he died on April 21 following.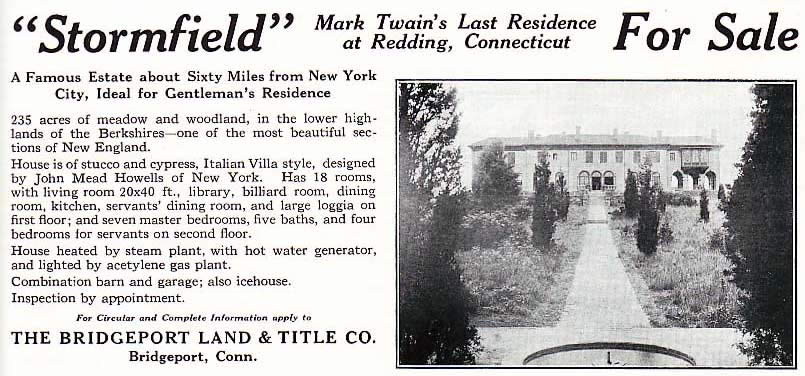 Advertisment for the sale of Stormfield did not appear alongside the New York Times article.
Return to The New York Times index




Quotations | Newspaper Articles | Special Features | Links | Search